First of all it was a great year of racing and thank you to all the Volunteers, Officials that helped through the year, we thank you. To all the competitors, pit crews and our karting families thank you.
Round 8 not only decided who our Club Champions are for 2019 but also decided The 2019 Dad's World Title. The racing was fierce all day, started of in Qualifying where Adrian Estasy set the blistering pace of 43.907 on his last lap. Adrian continued to show form through the Heats with a Heat 1 win in front of Clayton Priest in 2nd and Sam Mrad 3rd. Heat 2 again saw Adrian Estasy taking the win with this time Sam Mrad in 2nd Clayton Priest in 3rd.
This left an exciting Final of 12 laps for the Dad's World Title of 2019, we  had Adrian Estasy starting off pole and Sam Mrad sharing the front row in P2, the second row had Clayton Proest on the inside in P3 and Damien Powell the outside in P4. After the start there was a turn 2 coming together of some of the leaders that set the tone for the 12 lapper. There was some good racing all through the pack right to the last lap with Sam Mrad taking out the 2019 Dad's World Title, followed by Wayne Rutty in 2nd and Clayton Priest in 3rd.
We'd like to thank the remainder of the Dad's that raced and made it a great fun day for all. The rest of the Dad's in order from 4th place, Adrian Estasy, Damien Poswell, Glenn Quinlan, Peter Cooper, Darren Cohen, Craig Dockett, Andrew McLean, Christopher Brown, Martin Heard and Richard Stubbs.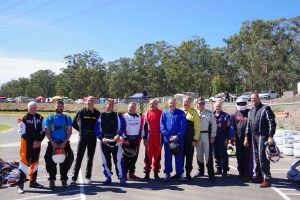 Now for the North Shore Kart Club Champions of 2019
Cadet 9 – Corey Carson
Cadet 12 – Kamal Mrad
KA4 Junior Light – Jordan Shalala
KA4 Junior Heavy – Daniel Vella
KA3 Junior – Jordan Shalala
KA3 Senior Light – Victoria Lopes
TaG 125 Light – Reece Cohen
TaG 125 Heavy – Nicholas Caruso
TaG Restricted Light – Pietro Lidano
TaG Restricted Medium – Christoper Quinlan
TaG Restricted Masters Light – Stewart Walker
TaG Restricted Masters Medium – Mark Owen
Congratulations to our 2019 Champions